Select Your Vehicle Specifications
We do not have those parts for your vehicle. Please select another part category.
Select Your Vehicle Specifications
It is possible we may not have parts for certain vehicles.
We do not have those parts for your vehicle. Please select another part category.
Where is your Vehicle Registered?
Where is your Vehicle Registered?
WHAT EMISSIONS STANDARD IS YOUR VEHICLE EQUIPPED WITH?
You can find out by inspecting the emissions sticker that is located in your engine compartment.
Vehicle Details
Select the option that best describes your vehicle. We want to make sure the part fits your specific vehicle so we need a little more information from you.
What is your EFN # ?
You can identify your vehicle's EFN by checking your emission tag located under the hood, on the suspension tower or on the radiator shroud.
MagnaFlow xFrame Dynamic Racing Simulator Cockpit
The MagnaFlow xFrame is designed for enthusiasts by enthusiasts. We worked to develop the most rigid and uncompromising racing simulator cockpit in the sim racing industry. Whether you want to dominate the grid in GT racing or are after open-wheeled thrills in a formula car, xFrame quickly and effortlessly adjusts to match the driving position of any vehicle you choose. Thanks to our hybrid locking system which incorporates electronic actuators and tool-free precision rails, xFrame adjusts to a wide range of driver sizes and seating positions in mere seconds (Beat that, 80/20 rigs!). This innovative integration of electronics in our simulator chassis places xFrame in pioneering territory: more advanced than any static rig on the market, with a degree of rigidity and simplicity unrivaled by full-motion simulators. Meet the world's first dynamic simulator. The six-piece tubular spaceframe maximizes chassis rigidity, makes assembly simple and provides the immersive closed cockpit sensation of a track-ready roll cage. xFrame delivers bold styling and uncompromising construction with its automotive-grade stainless steel tubing, CNC machined and laser cut components and a premium powder coat finish. Step up your sim game, step into xFrame.
xFrame has been designed to fit steering and pedal hardware from leading simulation brands such as Fanatec, Simucube, Logitech, and Thrustmaster. Please reference the bolt patterns to guarantee fitment with your controls.
Features and Hardware Included:
• Six stainless-steel tubular frame weldments
• Three mechanical sub-assemblies (Seat, Steering, & Pedals)
• Two high capacity electronic linear actuators
• Individually packaged hardware kits
• Assorted xFrame decals & installation tools
*Note: If required, xFrame Side-Mount Seat Brackets and Front Steering Mount are sold separately.
Tell me when this product is in stock.
Email is missing '@' symbol
Features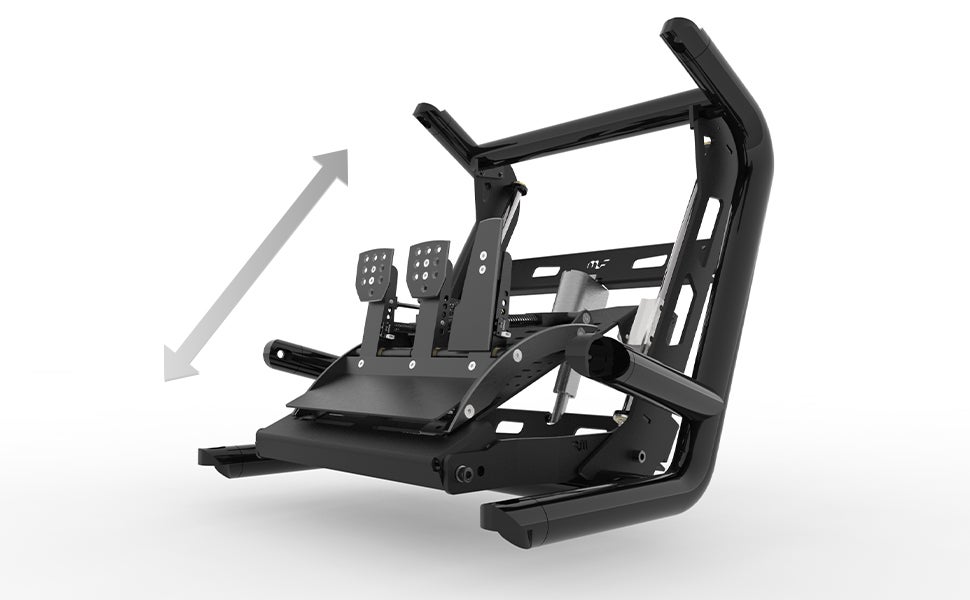 Hybrid Electronic Actuation 
xFrame handles the most tedious pedal and seating adjustments faster than you can load into the next race.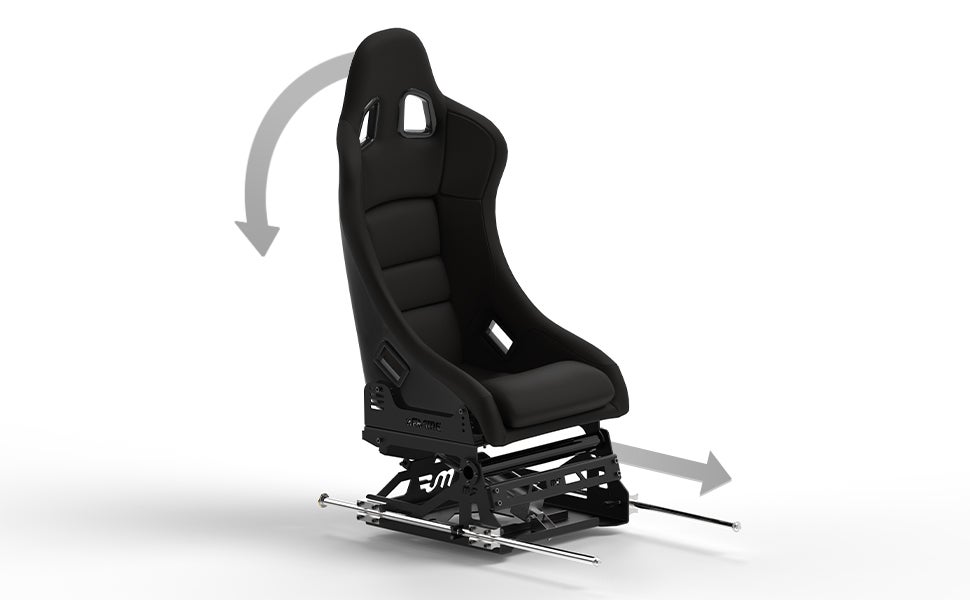 Effortless Positions
Bring the crew over for game night. xFrame accommodates different-size drivers and seating positions in seconds—no tools required.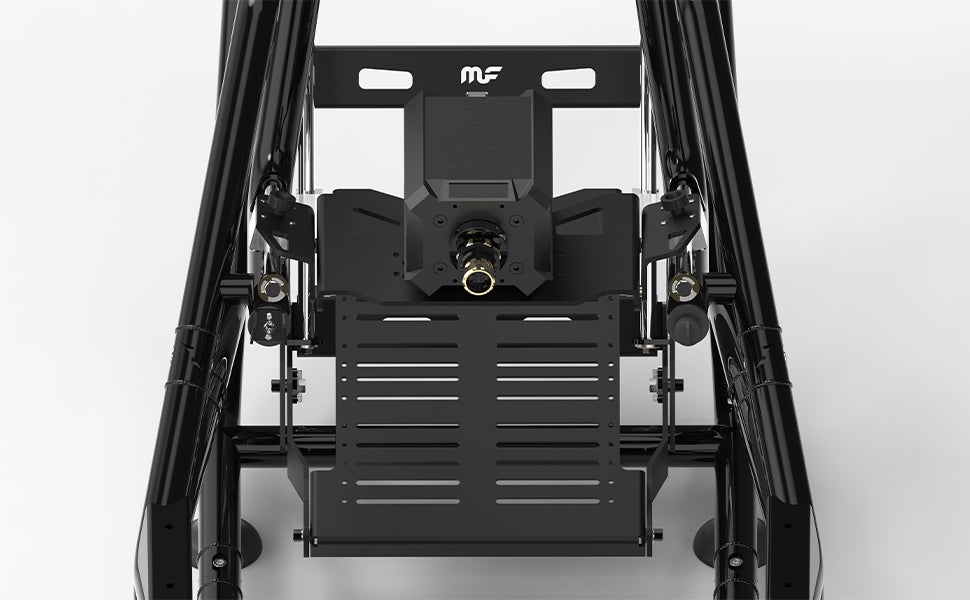 Universal Fitment
Use your favorite controls. All hardware mounting points were designed to fit devices from the industry's leading brands such as Fanatec, Simucube, Logitech, and Thrustmaster.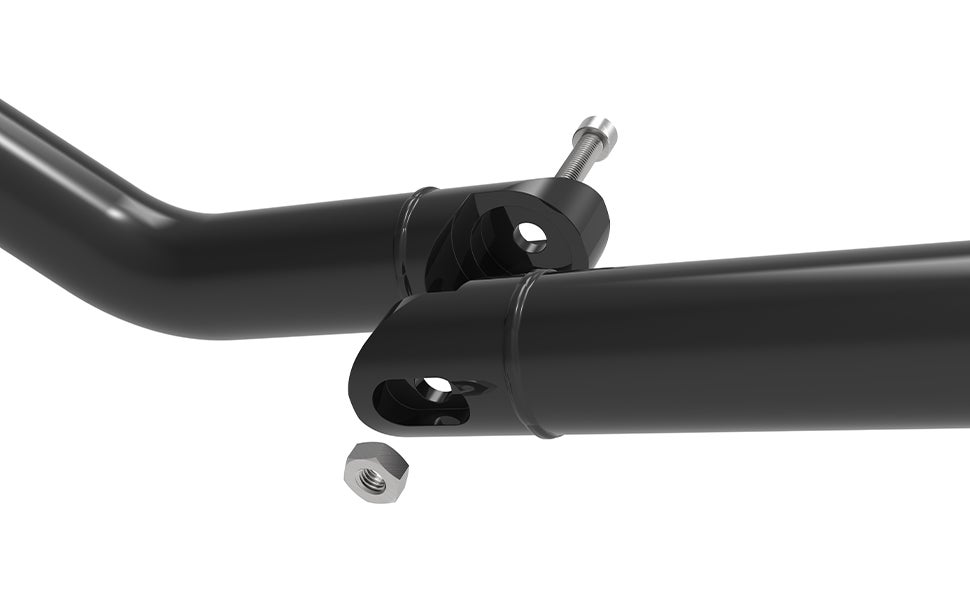 Maximum Rigidity
Half spaceframe, half roll cage. xFrame's construction features real automotive materials and components, creating a blissfully overkill racing experience.   

MagnaFlow Quality
Changing the Game
SPECIFICATIONS
SPECIFICATIONS
Weight

234 lbs

Length

72.75"

Width

32.25"

Height

32.375"

Material

Stainless Steel

Tube Finish

Gloss Powder Coat

Plate Finish

Matte Powder Coat

Tube Diameter

2"

Recommended Driver Weight kg

250lb (113kg)

Power Socket Type

Type B

Electrical Requirements

120V 60Hz
HARDWARE
Qty

Hardware Kit

18

CNC Machined Parts

18

Sheet Metal Parts

269

Nuts and Bolts

6

Precision Linear Rails

6

Tubular Weldments

7

Decals

9

Assembly Tools
HARDWARE
Installation
Do It Yourself
Quick at-home assembly. Uses included tools and requires only basic mechanical knowledge.
Download User Manual