Select Your Vehicle Specifications
We do not have those parts for your vehicle. Please select another part category.
Select Your Vehicle Specifications
It is possible we may not have parts for certain vehicles.
We do not have those parts for your vehicle. Please select another part category.
Where is your Vehicle Registered?
Where is your Vehicle Registered?
WHAT EMISSIONS STANDARD IS YOUR VEHICLE EQUIPPED WITH?
You can find out by inspecting the emissions sticker that is located in your engine compartment.
Vehicle Details
Select the option that best describes your vehicle. We want to make sure the part fits your specific vehicle so we need a little more information from you.
What is your EFN # ?
You can identify your vehicle's EFN by checking your emission tag located under the hood, on the suspension tower or on the radiator shroud.
MagnaFlow 2018-2023 Dodge Durango NEO Series Cat-Back Performance Exhaust System
The MagnaFlow Dodge Durango NEO Series Cat-Back Performance Exhaust System #19628 adds a modern take on our signature exhaust tone and dyno-proven performance to your 2018-2023 Dodge Durango equipped with the 6.4L engine option. With this exhaust you'll easily have the meanest SUV on the block. Exhaust kit #19628 is easy to install and replaces all your Durango's OEM exhaust components from near the catalytic converter on back. #19628 features 3" diameter mandrel bent main piping that passes through an extended midbody X-pipe, two 14" straight-through round mufflers and two 14" straight through oval mufflers before ending in a dual split rear exit with 4.5" double-wall angle-cut rolled edge dry carbon fiber tips. This Dodge Durango exhaust kit is made of durable, corrosion resistant stainless steel and constructed using advanced CNC precision robotic manufacturing techniques, all backed by MagnaFlow's limited lifetime warranty.
... Read More
Confirm Fitment
Tell me when this product is in stock.
Email is missing '@' symbol
Features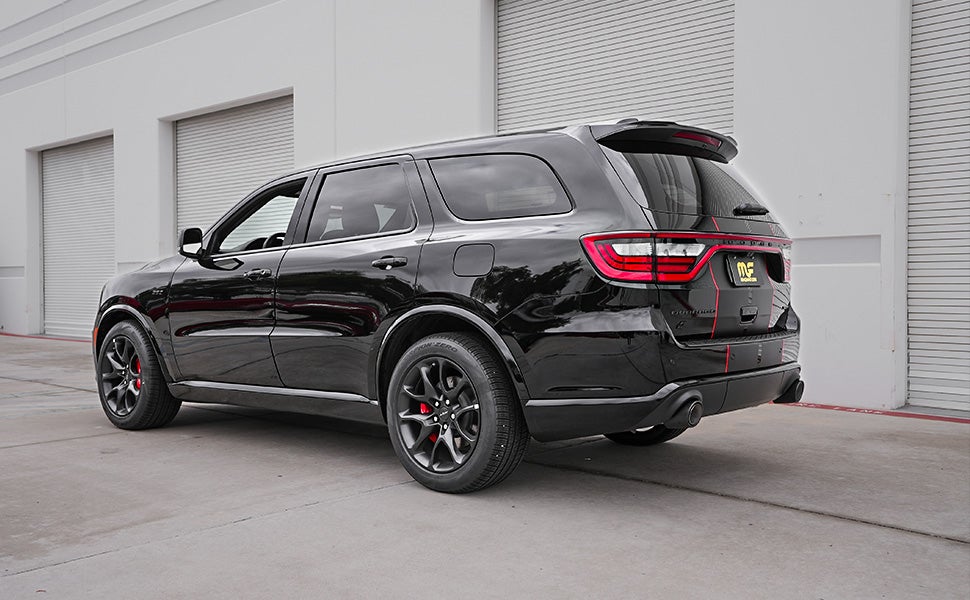 Exhaust Unleashed
Your modern, high-performance SUV needs a high-tech performance exhaust to make the most of its mighty 6.4L V8. Look no further than MagnaFlow's NEO Series for the ultimate in sound and power gains.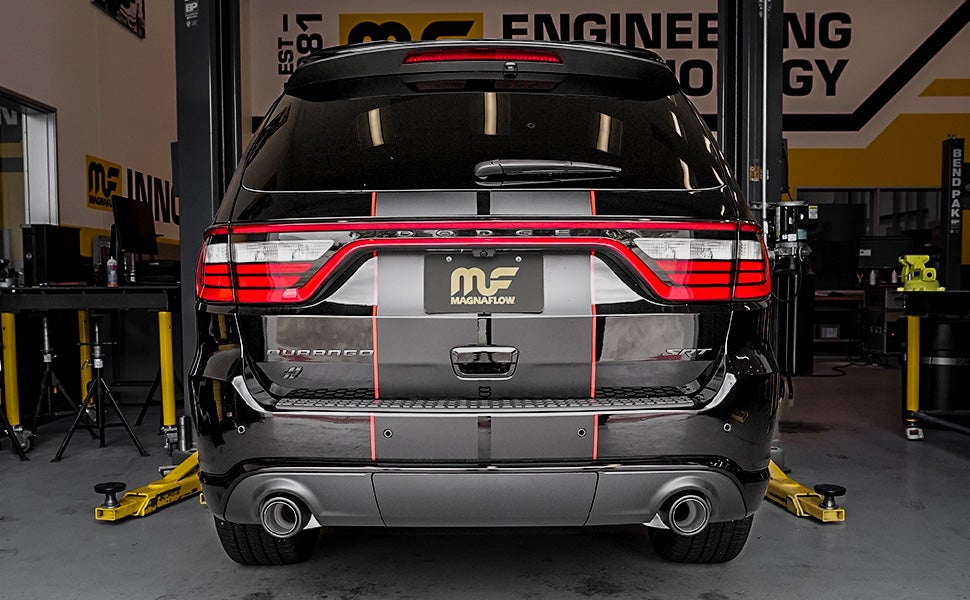 Pure Performance
Sound is nothing without power. That's why we thoroughly test each Dodge Durango NEO Series system on our in-house dynamometer to guarantee optimal airflow and performance.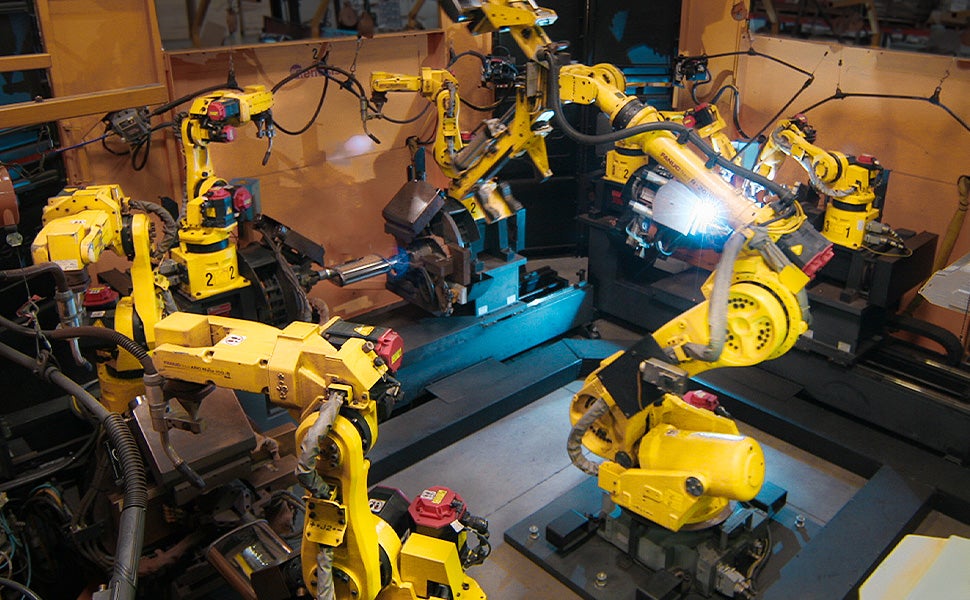 Engineered Excellence
Your SUV has (at least) tens of thousands of miles ahead of it. Make sure you upgrade it with a durable stainless steel MagnaFlow performance exhaust that's designed to last at least as long as your vehicle will.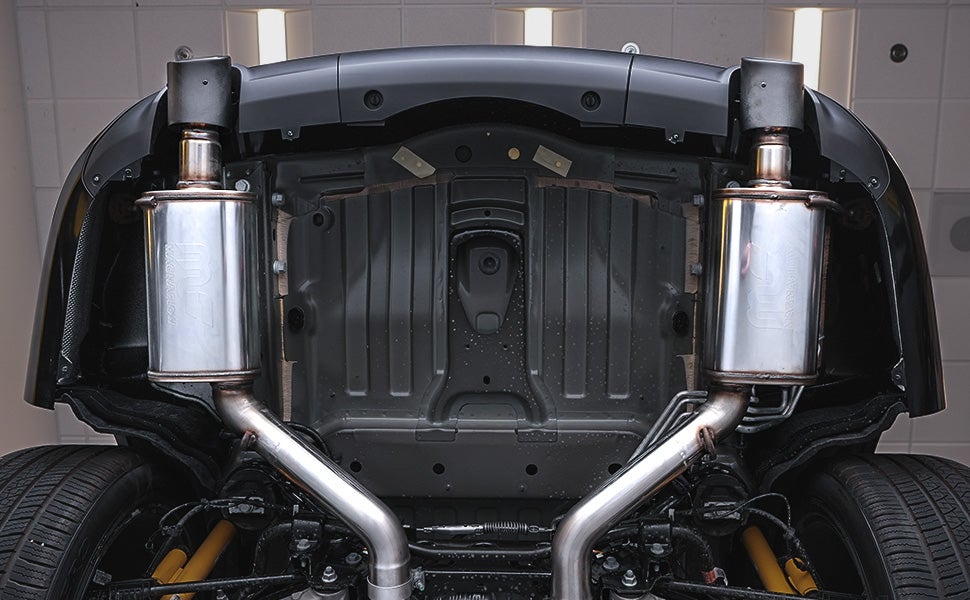 Perfect Fitment
This direct-fit NEO Series system fits onto your Dodge Durango easily thanks to the extensive use of 3D scanning during development to ensure OEM-like fitment. #19628 includes all the hardware necessary for do-it-yourself installation.

MagnaFlow Quality
Designed for Power and Sound
Compatible Vehicles
More information may be necessary to guarantee this part fits these vehicles. Click on a vehicle and finish filling out the listed requirements to confirm fit.
SPECIFICATIONS
SPECIFICATIONS
Type

Cat-Back

Series

NEO

Muffler Quantity

4

Muffler Type

Straight-Through

Material

Stainless Steel

Hangers Included

Yes

Mounting Bracket Included

No

Muffler Body Material

Stainless Steel

Clamps Included

Yes

Gasket Or Seal Included

No

Inlet Type

Bolt-On
HARDWARE
Qty

Hardware Kit

4

3in. Band Clamp

4

Bolt

4

Washer
HARDWARE
Installation
Do It Yourself
Bolt-on installation. May require basic automotive knowledge for proper installation and professional installation is always recommended.
Download Installation Guide