Select Your Vehicle Specifications
We do not have those parts for your vehicle. Please select another part category.
Select Your Vehicle Specifications
It is possible we may not have parts for certain vehicles.
We do not have those parts for your vehicle. Please select another part category.
Where is your Vehicle Registered?
Where is your Vehicle Registered?
WHAT EMISSIONS STANDARD IS YOUR VEHICLE EQUIPPED WITH?
You can find out by inspecting the emissions sticker that is located in your engine compartment.
Vehicle Details
Select the option that best describes your vehicle. We want to make sure the part fits your specific vehicle so we need a little more information from you.
What is your EFN # ?
You can identify your vehicle's EFN by checking your emission tag located under the hood, on the suspension tower or on the radiator shroud.
MagnaFlow NEO Series Cat-Back Performance Exhaust System
The MagnaFlow Toyota 86/Toyota GR86/Subaru BRZ/Scion FR-S NEO Series Performance Exhaust System #19595 brings dyno-proven performance and our latest exhaust advancements to your Japanese sportscar with an aggressive exterior sound and well-controlled, moderate interior sound made possible by careful integration of our No Drone Technology (NDT). By utilizing NDT in its design, exhaust kit #19595 is able to minimize the unwanted droning noise that can otherwise occur at cruising speeds. Exhaust system #19595 is compatible with 2022+ Toyota GR86s, 2013+ Subaru BRZs, 2017-2020 Toyota 86s and 2013-2016 Scion FR-Ss. This GR86/BRZ/86/FR-S exhaust system features 2.5" fast-flowing mandrel bent main piping that flows through a straight-through muffler and NDT resonator before terminating in a dual rear exit with 4.5" polished tips. The direct-fit design enables do-it-yourself installation and can be easily removed thanks to the use of racing-bred V-band clamps. #19595 is made of premium, durable and corrosion resistant 304 stainless steel and is produced used CNC precision robotic manufacturing techniques, all backed by MagnaFlow's limited lifetime warranty.
... Read More
Confirm Fitment
Tell me when this product is in stock.
Email is missing '@' symbol
Features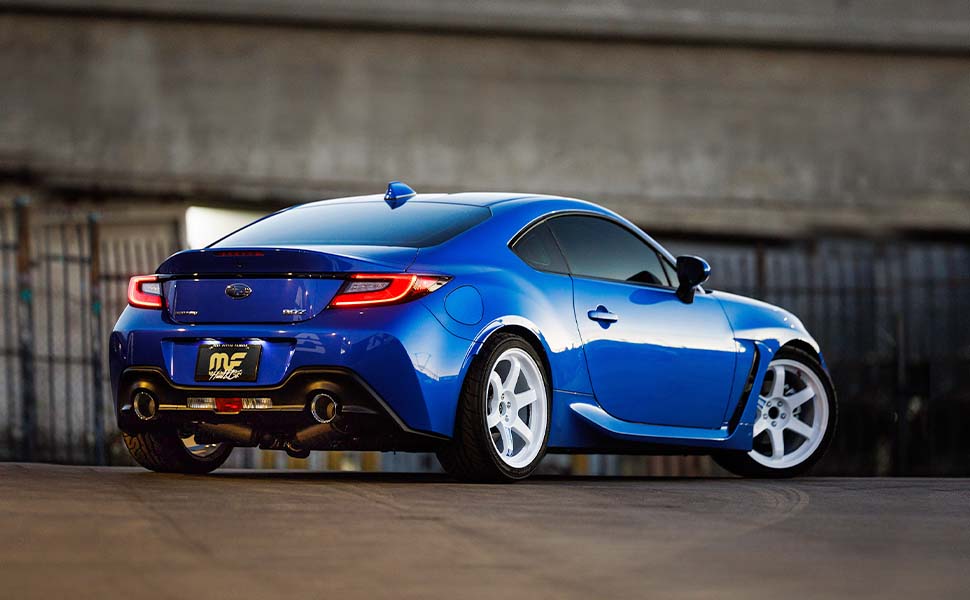 Exhaust Unleashed
Aggressive and unleashed in all the right ways. The NEO Series represents an evolution in MagnaFlow's exhaust sound that has been reengineered and enhanced to match the advanced technology of today's performance vehicles.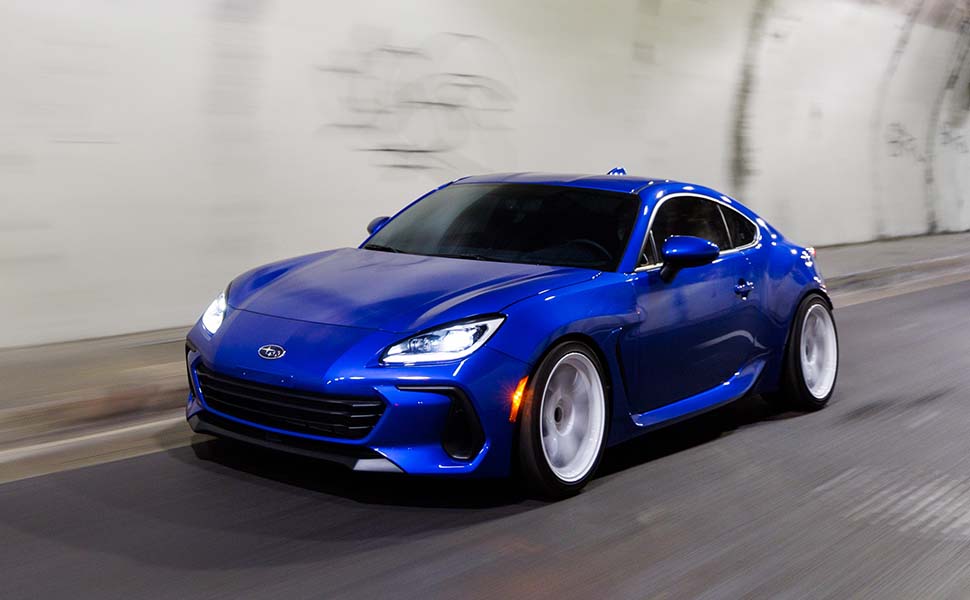 Pure Performance
Sound is nothing without power. Every NEO Series exhaust system is designed for maximum airflow and validated on our in-house dyno to ensure performance across the entire powerband.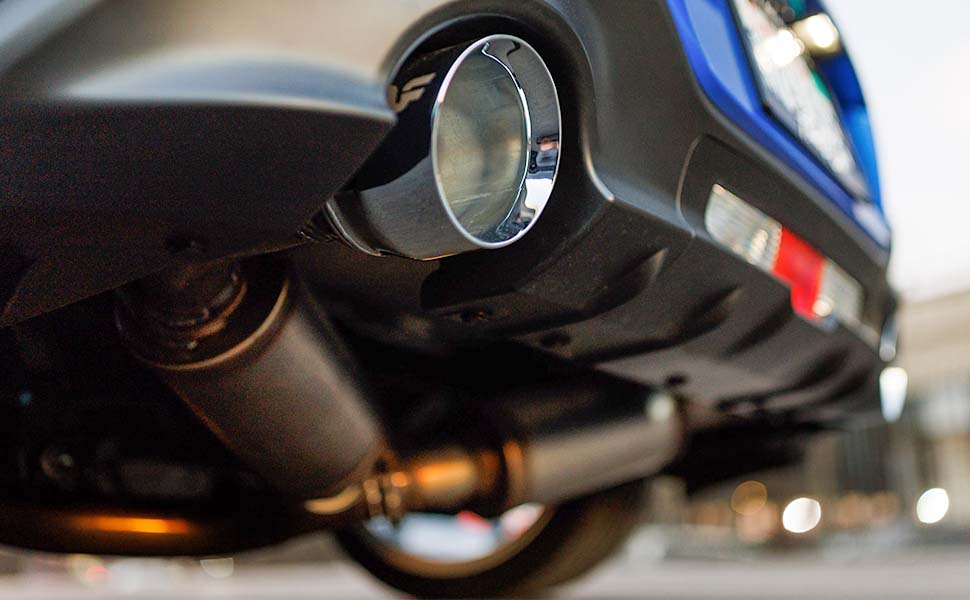 Endless Tip Options
Make this MagnaFlow exhaust system your own. 19595 includes a versatile mounting point where you can attach any 5-inch tip you wish to complete the look of your exhaust.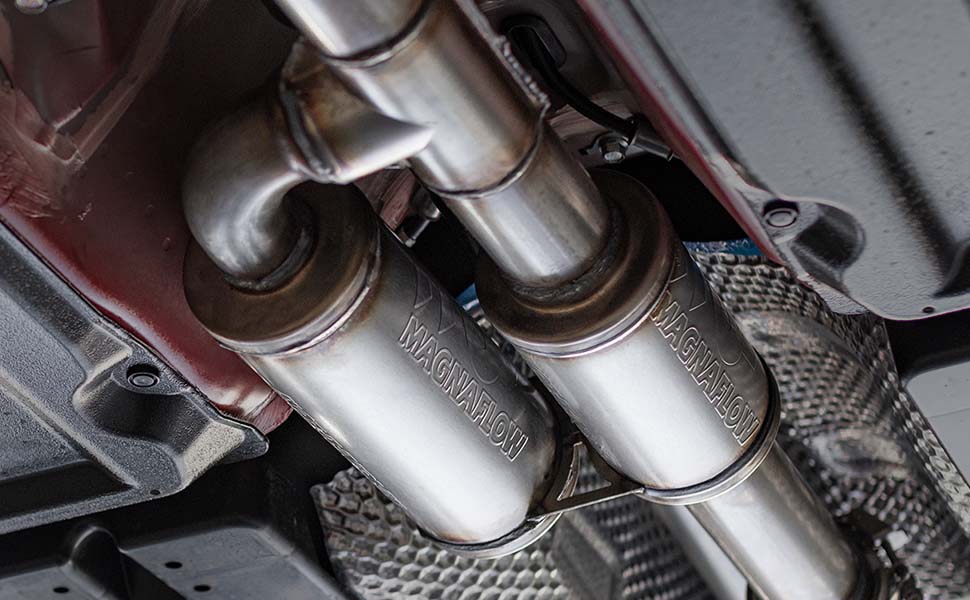 Perfect Fitment
This direct-fit NEO Series system fits onto your Subaru BRZ easily thanks to the extensive use of 3D scanning during development to ensure OEM-like fitment. 19595 includes all the hardware necessary for do-it-yourself installation.
MagnaFlow Quality
Designed for Power and Sound
Compatible Vehicles
More information may be necessary to guarantee this part fits these vehicles. Click on a vehicle and finish filling out the listed requirements to confirm fit.
SPECIFICATIONS
SPECIFICATIONS
Type

Cat-Back

Series

NEO

Main Piping Diameter

2.5"

Exit Style

Dual Split Rear

Inlet Connection Type

Bolt-On

Muffler Quantity

4

Muffler Finish

Brushed

Tip Type

Welded-On;Double Wall;Angle Cut;Folded Edge

Tip Shape

Round

Tip Material

Stainless Steel

Tip Finish

Polished

Tip Diameter

4.5"

Tip Length

5.75"
HARDWARE
HARDWARE
All gaskets and other hardware are included to enable do-it-yourself, bolt-on installation. Some basic automotive knowledge may be required.
Installation
Do It Yourself
Bolt-on installation. May require basic automotive knowledge for proper installation and professional installation is always recommended.
Download Installation Guide
Fitment Notes
If your vehicle has any additional features, this part may or may not fit. Make sure to check all of these vehicle add ons to make sure your vehicle is compatible with our part.
Please enter your year make and model to see fitment notes.