Select Your Vehicle Specifications
We do not have those parts for your vehicle. Please select another part category.
Select Your Vehicle Specifications
It is possible we may not have parts for certain vehicles.
We do not have those parts for your vehicle. Please select another part category.
Where is your Vehicle Registered?
Where is your Vehicle Registered?
WHAT EMISSIONS STANDARD IS YOUR VEHICLE EQUIPPED WITH?
You can find out by inspecting the emissions sticker that is located in your engine compartment.
Vehicle Details
Select the option that best describes your vehicle. We want to make sure the part fits your specific vehicle so we need a little more information from you.
What is your EFN # ?
You can identify your vehicle's EFN by checking your emission tag located under the hood, on the suspension tower or on the radiator shroud.
MagnaFlow 2003-2023 Toyota 4Runner Overland Series Cat-Back Performance Exhaust System
The MagnaFlow Toyota 4Runner Overland Series Cat-Back Performance Exhaust System #19546 will enhance your 4.0L V6 Toyota 4Runner (2003-2023) with MagnaFlow's renowned deep rumble and dyno-proven performance. MagnaFlow #19546 is weight optimized for additional utility and designed such that its mandrel bent 2.5" diameter main piping is situated more closely to the body than the stock configuration. This combined with a single high-clearance no-tip, passenger-side rear exhaust exit allows for significantly improved ground clearance and departure angles. MagnaFlow exhaust system #19546 is compatible with the most popular bolt-on aftermarket modifications and features our No Drone Technology, which cancels out the natural droning frequencies of the V6 Toyota 4Runner at cruising speeds. This allows for a quiet ride on the highway while retaining the character of your rig's exhaust note. CNC precision robotic manufacturing enables perfect fitment and hassle-free bolt-on installation. The 100% stainless steel construction of exhaust kit #19546 is covered by MagnaFlow's limited lifetime construction warranty.
... Read More
Confirm Fitment
Tell me when this product is in stock.
Email is missing '@' symbol
Features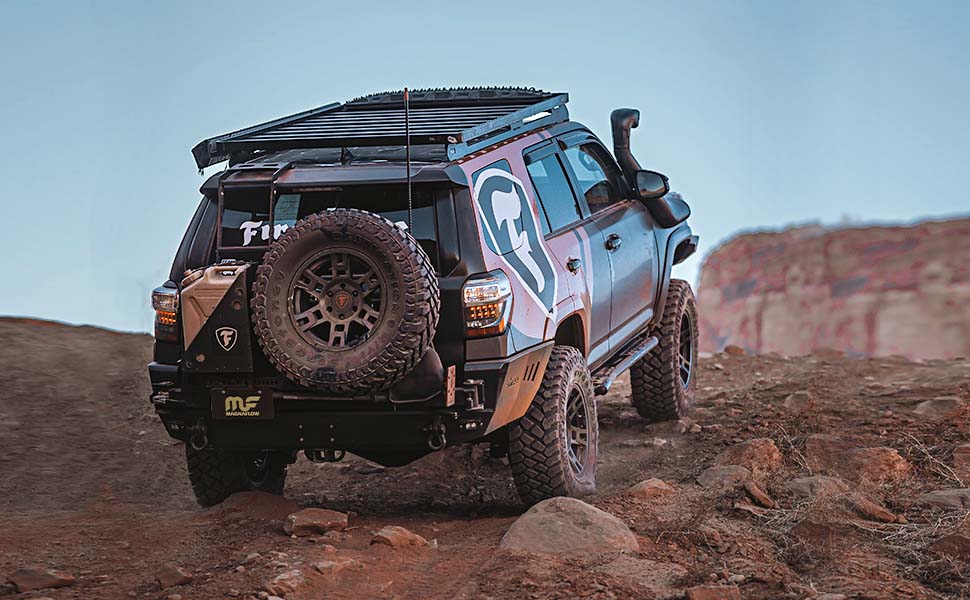 Explore Further
Take your off-road driving to the next level with a high clearance design engineered to improve ground clearance and departure angle.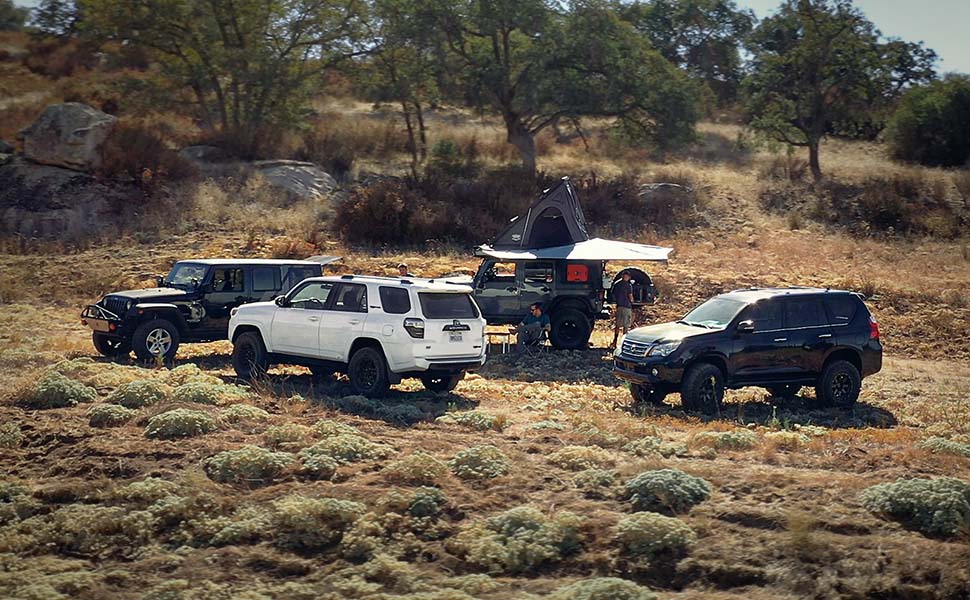 Camp-Friendly Sound
MagnaFlow's versatile tuning and No Drone Technology ensure comfort on long drives over any terrain while still bringing out the individual character of your rig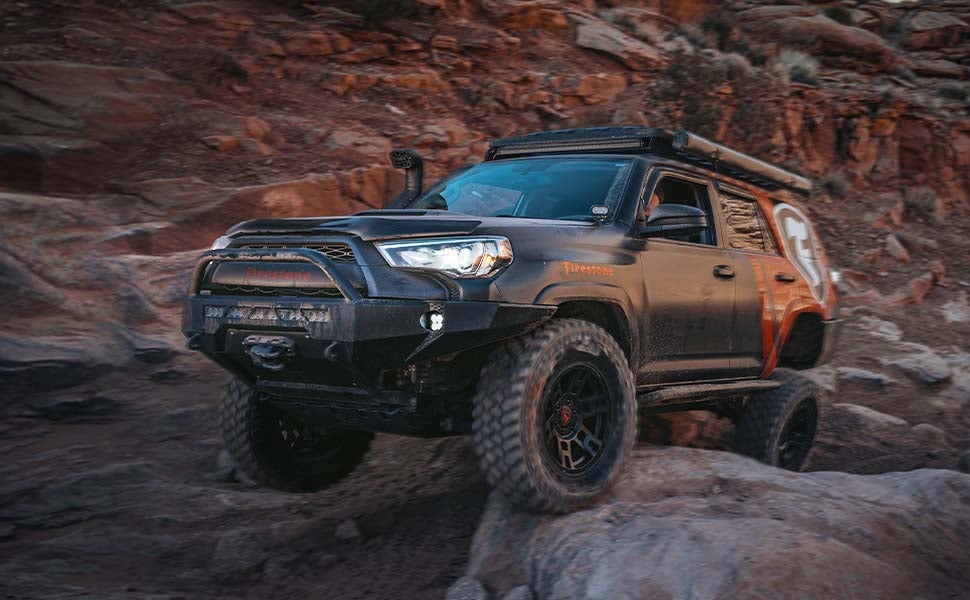 Trail-Proven Performance
No matter the obstacle, MagnaFlow's dyno-proven performance will be there to back you up and help offset the additional weight of your gear.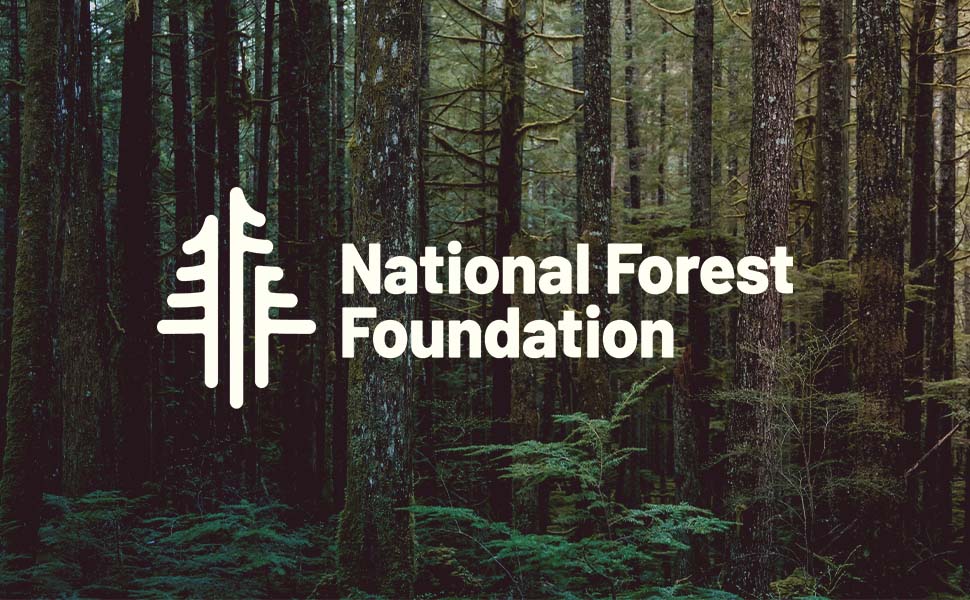 Commitment to Community
At MagnaFlow, we understand the importance of protecting our shared outdoor spaces. That is why we will be planting a tree for every Overland Series product sold with our partners at the National Forest Foundation.
MagnaFlow Quality
Designed for Power and Sound
Compatible Vehicles
More information may be necessary to guarantee this part fits these vehicles. Click on a vehicle and finish filling out the listed requirements to confirm fit.
SPECIFICATIONS
SPECIFICATIONS
Type

Cat-Back

Series

Overland

Muffler Quantity

2

Material

Stainless Steel

Hangers Included

Yes

Mounting Bracket Included

No

Muffler Body Material

Stainless Steel

Clamps Included

Yes

Gasket Or Seal Included

No

Inlet Type

Bolt-On
HARDWARE
Qty

Hardware Kit

1

Pipe Cap

5

2.5in. Band Clamp
HARDWARE
Installation
Do It Yourself
Bolt-on installation. May require basic automotive knowledge for proper installation and professional installation is always recommended.
Download Installation Guide